NUK Disney Minnie/Mickey Mouse Bottle Cup & Soother Set 150ml Brand New
Estado del producto: Nuevo
Description Product Description NUK First Choice Bottles are designed to be used with First Choice+ Teats. The NUK First Choice+ Teat replicate a mothers nipple during breastfeeding and features the special, orthodontic, asymmetrical NUK shape, an extra wide lip support and new extra soft tip to fit babys mouth perfectly, simulating breastfeeding as closely as possible - so true to nature that most babies hardly notice the difference. Clinically proven for optimal combination of breast and bottle feeding* The NUK improved Anti-Colic Air System helps to prevent colic by allowing air to flow into the bottle through a vent. This ensures that no air is swallowed during feeding. NUK First Choice Learner Bottles are designed to make the transition from breast and bottle feeding to drinking from a cup easier. With ergonomic grips making it easy for your child to hold the cup themselves. The non-spill design is ideal for active babies and reduces mess. NUK Disney Soothers have a specially designed orthodontic shape, which adapts to the shape of the babys mouth and helps exercise the lips, tongue and facial muscles, promoting healthy development of both teeth and jaws. The flat shape of our Disney Soothers helps prevent pressure marks and avoids being displaced from babys mouth. The NUK Air System helps to ensure the mouthpiece remains soft and flexible, encouraging the correct development of your childs teeth. NUK Teats and Soothers are approved by the British Dental Health Foundation. *Moral et al. BMC Paediatrics. Box Contains Bottles: 2x 300ml & 1 x 150ml Learner. Teats: FC+ Silicone S2 M. Soothers: Mickey S2 Silicone Soothers Features All the essential items that parents need for baby feeding Set includes 2 x 6-18mths 300ml Bottles, 1 x 150ml Learner Cup, 2 x 6-18mths Orthodontic Silicone Soothers and 2 x 6-18mths Silicone Teats NUK First Choice+ Bottles & Teats are clinically tested and proven for combination feeding NUK Teats and Soothers are approved by the...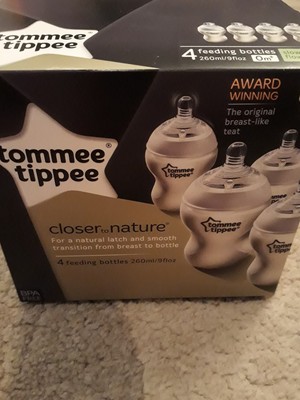 Tommee Tippee closer to nature 0m+ set of 4 bottles
Estado del producto: Nuevo
Tommee tippee Closer to nature 0m+ bottles Brand new unused 4 in the box 260ml/9floz PayPal only All items are posted within 2 to 3 working days All high value items will be sent recorded delivery for both buyers and sellers peace of mind Please make sure your address is correct before making any payments We are happy to accept returns but please bare in mind that the buyer has to pay return postage which is non refundable Any questions please ask and I will get back to you as soon as possible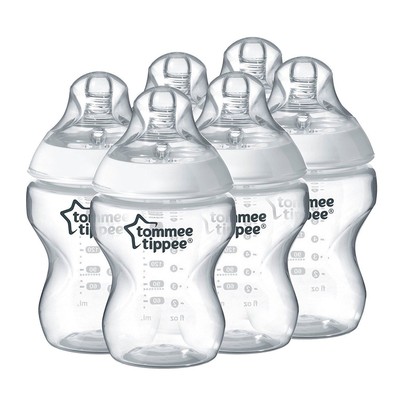 Tommee Tippee Closer to Nature 260ml / 9oz Baby Bottles x 6 Anti Colic Valve NEW
Estado del producto: Nuevo
Pack of 6 Tommee Tippee Closer to Nature Baby Bottles with Anti Colic valve. Brand new with free UK delivery. 6 bottles260ml / 9floz capacity eachslow flow valveBPA free0m+ With closer to Nature's award-winning range of BPA-free bottles, switching between breast and bottle feeding is easy as can be. Tommee Tippee has designed the easy-latch-on teat shape with breastfeeding experts to mimic the natural flex, stretch and movement of a mum's breast. Together with the bottle's sensitive valve, this encourages your baby's intuitive feeding action for comfortable, relaxed feeding. Designed to be held in the most natural position during feeding, the compact shape of closer to nature bottles allows baby to be closer to you. Box Contains 6 x Closer to Nature 9 floz/260 ml closer to Nature feeding bottle1 x Closer to Nature slow flow closer to Nature teat1 x Screw ring1 x Lid1 x Instruction leaflet -- Free postage with fast dispatch. Item will be packaged professionally prior to shipping. If you have any questions about the item, please send me a message. Check my shop for more great items.